Acupuncture
Welcome! We offer acupuncture treatment to help restore your body to a natural state of health and help you reach optimum wellness. Acupuncture is a form of alternative medicine and a key component of traditional Chinese medicine involving thin needles inserted into the body.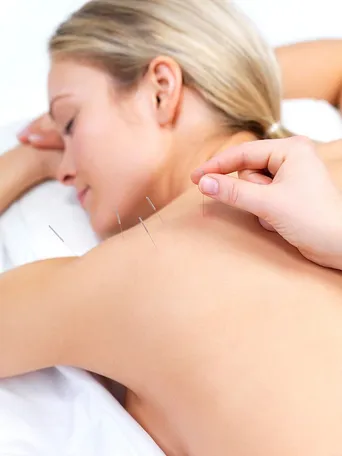 Our licensed acupuncturists are focused on helping patients address health issues such as chronic pain, stress, weight loss, digestive problems, emotional disorders and women's health care like infertility, PMS and post-natal care.
If you want to reduce pain, increase your energy levels, and enhance your overall physical and emotional well-being, call to schedule an appointment now!
Common Conditions Treated:
Infertility
Anxiety
Stress
Menstrual Problems
Back Pain
Insomnia
Migraines
Neck Pain
Sports Injuries
Digestive Issues
What Is Acupuncture?
Acupuncture comes from a traditional form of Chinese medicine that works by improving the body's functions. It promotes the body's ability to self-heal by stimulating certain acupuncture points, also referred to as acupoints, located throughout the body. Acupuncture has been reportedly used in China for over 300 decades (3000 years). Acupuncture helps your mind, body, and spirit rebalance, allowing your body to begin healing in very level.
What Are The Benefits Of Acupuncture?
Acupuncture has many benefits, especially for individuals who receive regular treatments. Patients have expressed that acupunctured has helped them reduce stress and pain, have a better quality of sleep and improved digestion, as well as better emotional stability, and increased joint flexibility. Patients who have the treatments done regularly have found that it helped improve their overall health and make better lifestyle choices.
Acupuncture awakens the body's ability to heal deeper. It also helps patients become more aware of their body, mind, and spirit, which is important because they are connected.